The Mystic JAMMS Band
Click on the links above to go directly to that section.
For information on booking The Mystic JAMMS Band,
call 831-425-3234, or send email to UCBK here.
---
Experience the Mystic JAMMS Band for yourself, with a few of our favorite songs.
(MP3-compatible player required.)
---

Jonathan D. Rosen
Sacred singer Jonathan D. Rosen was, once upon a time, a soloist with the San Francisco Opera Merola Program, and the New York Shakespeare Festival, as well as a faculty member of the San Francisco Conservatory of Music. As the director of TransFormance Theatre, Jonathan facilitated corporate healing & transformation through the use of improv theatre, music, and profound subtle energy techniques from the Shiva Sai Mandir in South India.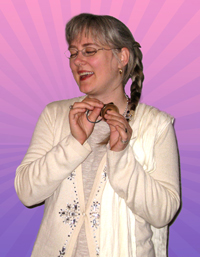 Alx Uttermann
After performing as a classical pianist for twenty-five years, Alx Uttermann blossomed into a singer-songwriter, composer & poet. During a five-year residence at the Shiva Sai Mandir in southern India, her training as a healer included learning, creating & singing countless bhajans (sacred songs) in Sanskrit & English.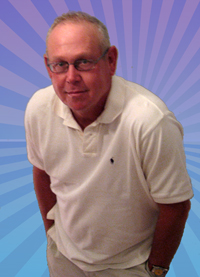 Martin Lawrence
Singer, guitarist & drummer, Martin has been involved with the Mount Madonna Center since its inception, and one of the main musicians for Baba Hari Das' programs. He's performed kirtan all over the Santa Cruz and Bay areas, including CSE (the Center for Spiritual Enlightenment) in San Jose.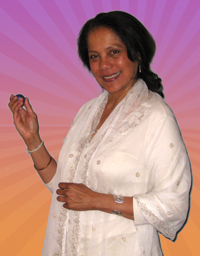 Carmen DeVida
Carmen DeVida has a life-long love of singing and all things musical, which led to working for some time in the recording industry and public radio as a jazz DJ many years ago. More recently, she began co-writing and performing inspirational music in New Thought churches around the Central Coast and the Bay Area. Since 2005, she has been ardently absorbing and digesting the teachings of Shirdi Sai Baba & his divine lineage, and is very pleased to offer devotional singing 'to uplift the soul' as a part of her spiritual practice.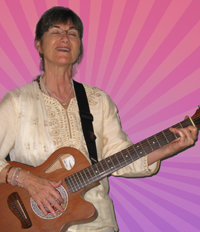 Maya & Sage Knowles
Maya & Sage are international recording artists who write and perform soothing and healing music for the spirit. They sing their spirit songs at New Thought churches and also create devotional singing events that include inspiring mantras and lyrics, enchanting melodies, golden harmonies, powerful healing instrumentation, and energizing world rhythms.

Between them, Maya & Sage have three CDs being enjoyed around the world: Spirit of Love, Entering Devachan, and Comin' Home.
Maya & Sage's website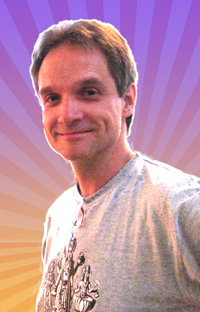 Russ Vogel
Russ Vogel joined the Jamms in 2008, lending his sweet guitar leads & melodious voice to the group's harmonies and vocal tapestry. A life-long musician, Russ has been performing in and around the Santa Cruz mountains for many years.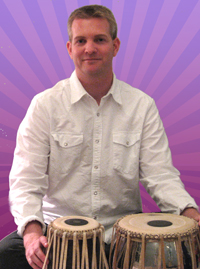 Shiva Das
Shiva Das spent a year living in South India, studying miracle healing at the Shiva Sai Mandir, and was an active part of the bhajan ensembles being trained on that holy ground. His tabla playing has expanded The Jamms sound into new & ancient horizons, taking the music into a timeless place.
---
"We look forward to your magical events every month and we feel blessed to be a part of the healing magic."
— Amita & friends, Santa Cruz, CA
"We attended your full moon concert healing experience & had a wonderful time. We had no idea that this Music As Medicine event was even happening until about an hour before. It was just a calling for us to be walking down the alley and notice the door open to the yoga studio... Thank you again for doing your wonderful work, the world needs you."
— P & L, Carmel Valley
"We experienced the Mystic Jamms Band at PCC last friday night, and I want to share how powerful it was for me! I will be sure to put the next full moon event on my calendar. Thanks so much for all of your beautiful and Divinely inspired energy."
— D., Santa Cruz, CA
---
This beautiful blessing mantra, a super tonic for any problem, was given out in the United States in November, 2005. The melody for this soul-music was developed by Maya and Sage. The sample available HERE (MP3 player required) is just a taste of what's to come; the full-on version is nearly 41 minutes long, a veritable tapestry of interwoven harmonies, offering 54 blissful repetitions of this sacred mantra.
Ordering Information
You can order this beautiful CD by visiting the Soul Shop on this website...!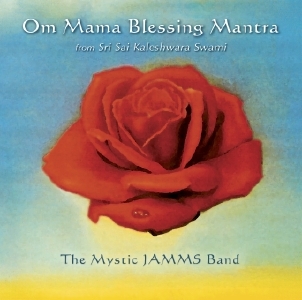 Lyrics
Om Mama Om Mama Om Mama
Atma Sukheebhava Sukheebhava Sukheebhava
Atma Shanti Shanti Shanti
Avaham Avaham Avaham
Poetic Translation
Me & Mother Divine (Om Mama),
we are linking together.
I am linking with Mother
& receiving that sweetness to my soul,
the deep peace of my soul's sweetness,
I'm drinking it deeply.
Reviews
"This is really, really amazing work. Sends chills down my spine every time I listen to it. Seriously, I could just drop this one into continuous loop and drift away. Thank you. And Namaste."
— Becca M., Alburquerque, NM

---