Mystic JAMMS Kirtan & Concerts
Members of The Mystic JAMMS Band will be performing in Bonny Doon this spring!

The Mystic Jamms at Cayuga Vault on the day of the Ganesh Festival, singing Jai Jai Jai Jai Ganapathi Deva........... enjoy!
You can also hear
The Mystic Jamms
via online radio!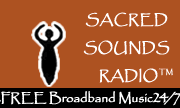 "
We attended your full moon concert healing experience
& had a wonderful time.

We had no idea that this Music As Medicine event was
even happening until about an hour before.

It was just a calling for us to be walking down the alley
and notice the door open to the yoga studio...

Thank you again for doing your wonderful work, the world needs you."
-- P & L, Carmel Valley
---
Come be part of the blessing: lend your voice to bring the divine through song!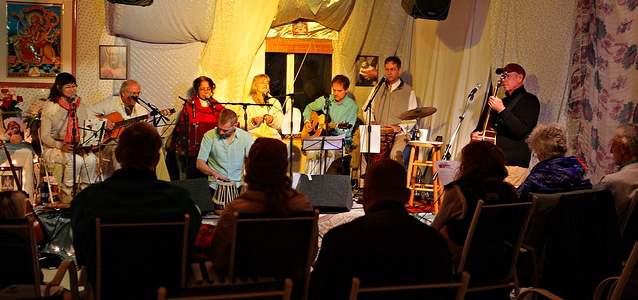 You're invited to come sing the divine names with members of The Mystic Jamms Band members and Sai singers as they lead a powerful kirtan and bhajans night at the UCBK Temple in Bonny Doon, CA.

The Mystic Jamms Band
performing at The UCBK Temple,
Winter 2010
The Details: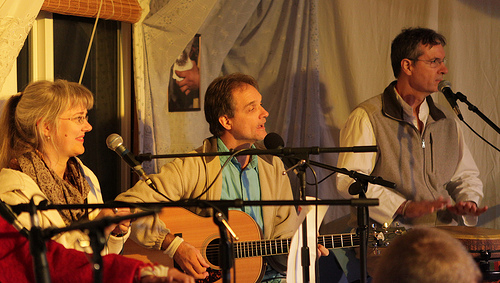 Date: Friday March 29th
8:30 p.m. sharp - 11 p.m. ish

UCBK Temple
9700 Empire Grade
Bonny Doon, CA
*carpooling MANDATORY! parking is limited! please coordinate with Carmen

Donations Heartfully Accepted

You're about to experience members of The Mystic Jamms Band and their unique kirtan healing sound.

Music is the universal language that speaks directly to the heart, bringing peace & joy to everyone it touches. That peace and joy creates a place where healing can occur naturally...

An eight-piece, multiple harmony kirtan, bhajans and mantra ensemble, The Mystic Jamms Band includes veteran sacred musicians Jonathan D. Rosen, Alx Uttermann, Carmen DeVida, Martin Lawrence, Russ Vogel, Maya & Sage Knowles, and Shiva Das. Harnessing the healing power of their Shiva-Shakti tradition, The Jamms sing the divine names & magic formulas (bhajan, kirtan & mantra) to unlock your own flow of peace, happiness, and joy.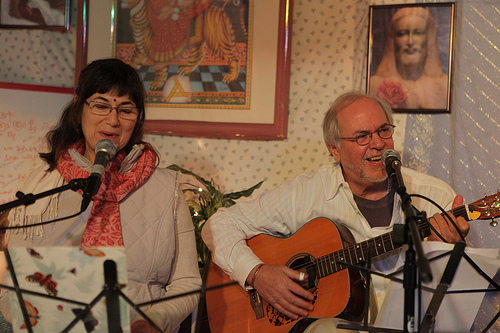 Listen to mp3 files of the Jamms HERE!

"We experienced the Mystic Jamms Band at PCC
last Friday night, and I want to share how powerful
it was for me!

I will be sure to put the next full moon event
on my calendar.

Thanks so much for all of your beautiful
and Divinely inspired energy." -- D., Santa Cruz, CA